The S7 Team
The S7 Team is comprised of five companies with a significant and distributed presence (43 offices combined) in four geographic zones (highlighted in the illustration): Synesis7, DCS Corporation, SITCO, University of Maryland, and Wyle Laboratories, Inc., strategically aligned to form a unified team which meshes capabilities of the more established service providers with emerging leaders and innovators through shared goals, approaches, and customer focused philosophies.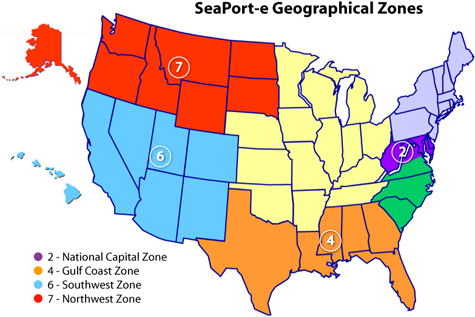 Team Member

Type of Business

Description

Woman & Veteran Owned Small Business

Headquartered in Butte, Montana, Synesis7, a woman and veteran-owned small business, has emerged an industry leader providing an automated system and process for converting complex source materials into S1000D compliant XML, significantly reducing cost, time, and errors within the conversion process. Acting as a total "system" transformation enabler, Synesis7 helps client-partners navigate through the challenges of rapid, unpredictable change and complex technology evolution through systems, software, and integrative management solutions that effect positive change. Synesis7 has been providing the US Navy, DoD Prime Contractors, the National Guard, and other government and commercial customers with value-added Management, Acquisition, Engineering, Logistics, Analysis, and Information Technology services for five years. Synesis7 has consistently achieved results that greatly surpass both customer expectations and initial requirements through the application of its unique "S7 HMM". This model integrates the 7 factors of: People (the Human Factor(s)), Culture, Technology, Community, Business/Economics, Environment, and Vision within a customizable framework that combines Systems Engineering, Six Sigma/TOC/LEAN (S4/IEE™), PMI Project Management, and Continuous Learning to provide Synesis7 customers not only with the desired outcomes but aids in insuring proper alignment with organizational goals/metrics and emerging trends.

Large Business

DCS is an Alexandria, VA based technical services firm with 26 years experience in providing engineering support to Department of Defense and other federal agencies. Specializing in military combat systems technologies, our 450 employees provide a comprehensive and effective blend of core engineering and management disciplines to solve the unique and complex challenges associated with sensors, platform electronics, weapons, CSR and knowledge systems. As the "Thought Behind the Technology", DCS' dedicated staff applies leading-edge technology skills to achieve best value in addressing our customer's challenges. Our capabilities encompass program management, systems and software engineering, modeling and simulation, training solutions, test and evaluation, and hardware/software integration. We're most proud of our employees - they share ownership of the company and every day through their service, they contribute to the well being of the nation.

Tribal-Owned Small Business, 8(a), HUBZone

Shoshone Information Technology Company, Inc. (SITCO) is an information technology company owned and operated by the Eastern Shoshone Indian Tribe located on the Wind River Indian Reservation. The company began operations in January of 2003, completing its first government contract in partnership with a private firm - Dimension4 to convert several thousand graphics into CGM, DWG and SVG formats. Platforms that are benefiting from this effort include Apache AH-64, H-1 helicopters, E-2 Hawkeye, TF33 engine, and the Marine Light Armored Vehicle (LAV).

With a commitment to excellence and a focus on client satisfaction, SITCO is poised and ready to provide data management solutions and now provides services in several subsections of the computing and networking industry, including repair, sales, administration, maintenance, document conversion, web development and security. The company has access to a large and flexible labor pool and is committed to being the employer of choice not only for tribal members, but also for the community as a whole.

Academic Institution

The University of Maryland is a top ranked public research institution of higher learning with no less than 70 graduate programs in the top 25 academic institutions in the United States. The distinguished faculty and staff of University of Maryland include a Nobel Prize winner, six Pulitzer Prize winners, and scores of Fulbright Scholars. The University contributions to the Department of Defense and the Federal Government accounted for about $50 million and more than $200 million of funded research last year.

The Center for Public Policy and Private Enterprise (CPPPE) provides the strategic linkage between the public and private sector to develop and improve solutions to increasingly complex problems associated with the delivery of public services - a responsibility all the more shared by both sectors. Operating at the nexus of public and private interests, the Center researches, develops, and promotes best practices; develops policy recommendations; and strives to influence senior decision-makers.

Augmenting the proposed staff and experimental facilities are CPPPE's current and ongoing developments and demonstrations in support of DoD acquisitions. Specifically, CPPPE has spearheaded the development of focused logistics concepts, supply chain portals, and sense and respond networks. CPPPE has also been instrumental in the development of strategies, policy, and recommendations to improve DoD acquisition implementation. Using this combination of cutting edge technology, best business practices, and public policy the University strives to balance the interests of both the public sector and industry.

Large Business

Wyle Laboratories, Inc. is a privately owned, multi-disciplined, research and development, test and evaluation, and technical services company that provides objective, systems-oriented services and products to the Department of Defense (DoD), NASA and other government and commercial entities. Wyle's realistic approach to problem solving offers a unique blend of scientific and technical expertise, combined with knowledge of operational environments and practical constraints, and supported by a responsive management structure, to provide its clients with the best solutions to their problems.

Wyle has more than 50 years of experience in providing a wide range of programmatic, analysis, engineering, information technology, and other technical support to DoD activities on a wide range of development, production and modification programs, including U.S. Air Force, Navy, Army, Joint Service, U.S./NATO, and U.S./Friendly Nation programs. The company's experience base covers the spectrum of aircraft life cycle support, including acquisition, program planning, systems engineering, software engineering, independent studies and analyses, engineering investigations, system integration, test and evaluation, reliability and maintainability engineering, logistics, configuration management, sustainment programs, and NDI.